Lewis Morley, 1925-2013
Issue 1349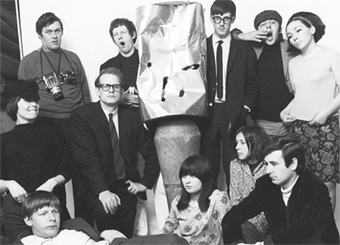 LEWIS MORLEY, who died this month, was for several years in the 1960s effectively Private Eye's staff photographer.

His Soho studio was adjacent to the Eye office, and he undertook a number of editorial jobs for the magazine that were considerably less glamorous than his famous shoot with Christine Keeler. Often uncredited, they included photographing a number of architectural monstrosities to illustrate John Betjeman's early Nooks and Corners columns.

This photograph, taken for a style magazine spoof in 1965 and entitled "Some of the Young Pacey People who make London Swing", features several members of the early editorial team, including Richard Ingrams, Paul Foot, Barry Fantoni and John Wells.